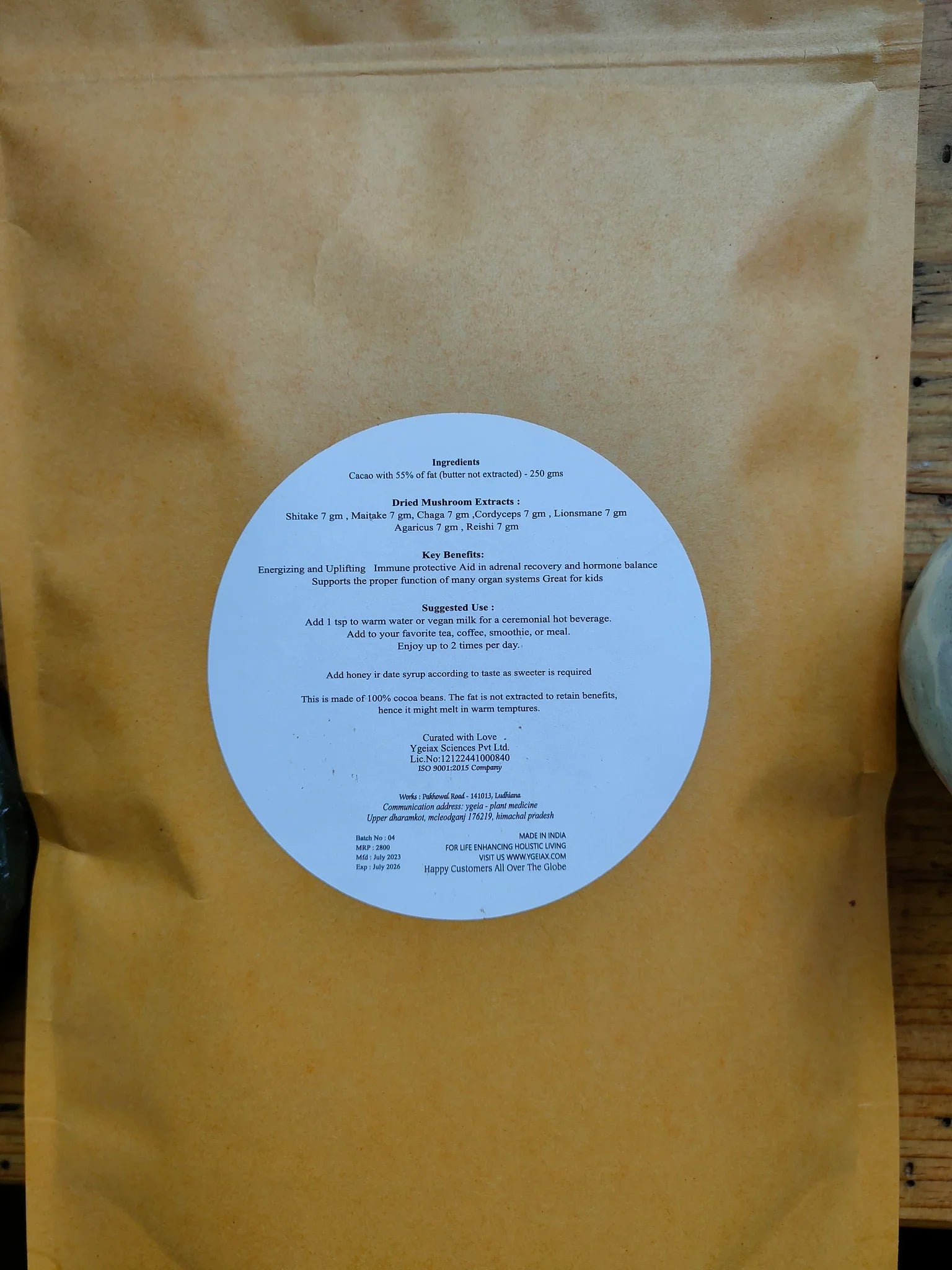 Ceremonial Cacao + 7 Medicinal Mushrooms
Sale price

$70.00
Regular price
(/)
---
Food for Gods & Goddesses
Ceremonial Cacao is for heart opening, wholesome nutrition and decedent flavours it brings to chocolates.
Our delicious cacao is combined with the medicinal properties of the following dried mushroom (7 gm each) extracts:
Shitake, Maitake, Chaga, Cordyceps, Lionsmane, Agaricus, Reishi.
This combination of ceremonial cacao with 7 nutritional mushroom extracts is super food ideal for kids and elderly who can benefit from additional support. Its is also beneficial for adults with demanding life conditions or who perform strenuous physical activities. It is a delicious energy powerhouse that offers energising and uplifting benefits, immunity support, aid in adrenaline recovery and hormone balance.
Refrigerate after opening.

Ceremonial cacao dose is about 20 - 30 gms or 1tsp to make a decadent cup of hot cacao beverage. It can be added to water, milk, or plant based milk alternatives.

Add to your favourite tea, coffee, smoothie, or cereals meal. Ygeia rose or vanilla essentials oil can be added to enhance flavours.
Enjoy up to 2 times a day.
The texture of Ceremonial Cacao alters with seasons. It is not a defect but a mark of it being a natural, authentic and untampered product. It transforms with changing seasons as natural butters/fats do with colder or warmer conditions. Please adapt your usage according to seasons.
Store in air tight jars, preferably glass. If the cacao hardens, cut out a scoop during each use. Alternatively, you can powder and store small batches in dry blender for convenience.
Ceremonial Cacao
Shitake
Maitake
Chaga
Cordyceps
Lionsmane
Agaricus
Reishi
It takes about 1 month for the natural products to start rewarding the body.

For more specific health conditions or pregnancy, please consult your physician before consuming. 

Herbal alternatives/teas are an aid, not a substitute for medical treatment.
Ceremonial Cacao + 7 Medicinal Mushrooms
Sale price

$70.00
Regular price
Choose options