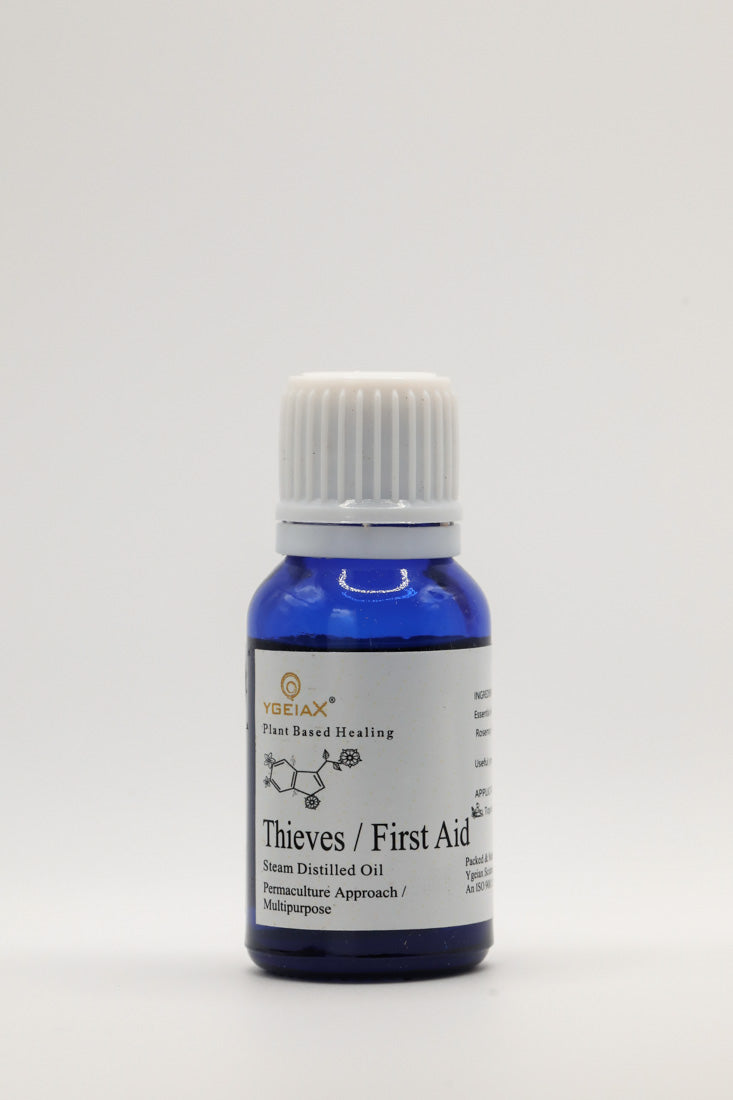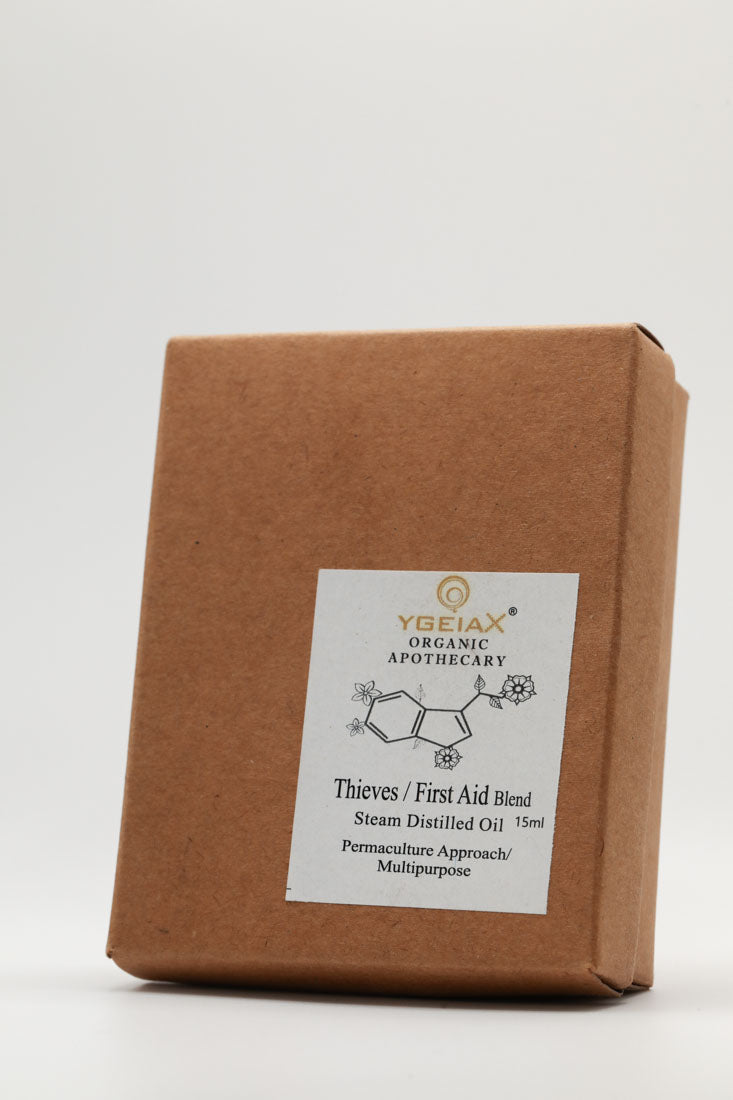 Thieves / First Aid
Sale price

$45.00
Regular price
(/)
100% steam distilled essential oil
---
Blend of Clove, Lemon , Cinnamon, Rosemary, Eucalyptus, and camphor steam distilled oils
Thieves is a first-aid multipurpose blend crafted to target overall health protection, bringing together the invigorating power of 6 powerful healing oils. It is based on age old Thieves Oil/Thieves Vinegar blends that were famously used by thieves to protect themselves while robbing victims who had died from the black plague.
This blend has the composition that support immune action, protection and healing from extreme conditions. It acts as a gatekeeper while safeguarding the body from external attack. For this reason, it is a must have for all travel kits.
You can customise Thieves blend experience by adding a few drops of grapefruit or Orange with sandalwood, or rose/jasmine with frankincense essential oil.
TOPICAL USE

This oil shows receptive dermal absorption suitable for remedial topical application while pursuing long term health benefits. Always mix with carrier oil for sensitive skin.
Rub 2 to 3 drops directly or with a teaspoon of carrier oil to your temples and neck helps to ease tension and eliminate muscle spasms.
Rub a few drops onto wrists or the nape of the neck for an energising and uplifting fragrance.
During facial routine, add one to two drops to facial mask/cream for cleansing, toning of skin and to help reduce the appearance of fine lines and wrinkles. Dilute with sweet almond oil or coconut oil to minimise any skin sensitivity.
Apply a drop or two topically for its cleansing properties.
Add a few drops with your hair oil, shampoo and conditioner for added moisture and lustre. Or include it in a DIY hair mask to nourish and create healthy-looking hair.
Add to base oil and use for a body massage.
Add 10 to 15 drops in bathtub for a therapeutical experience.
Mix 15 to 20 drops of Thieves blend to 1 tablespoon Epsom salts to massage into your skin as exfoliant or facial wash.

DIFFUSION AND HOME-CARE

Use 3-4 drops in your diffuser for a fresh.
For room air freshener, add 10 to 15 drops to water into a spray bottle.

AS FOOD FLAVOUR & HEALTH SUPPORT

Add 1 drop to a glass of water or tea.
Essential oils are generally considered safe for topical and aromatic use when properly diluted with a carrier oil.
Perform a patch test on your skin to ensure there are no adverse reactions.
These natural essential oils are used primarily for their healing properties, their subtle aroma is a bonus, not the only pursuit.
It will take some time for natural oils to start rewarding your skin.
It is advisable to mix essential oil with carrier oils for sensitive skin. 
It is also recommended to avoid contact with eyes, ears and others sensitive parts of the body.
Consult with your GP or healthcare professional before using it if you are pregnant, nursing, or have pre-existing medical conditions.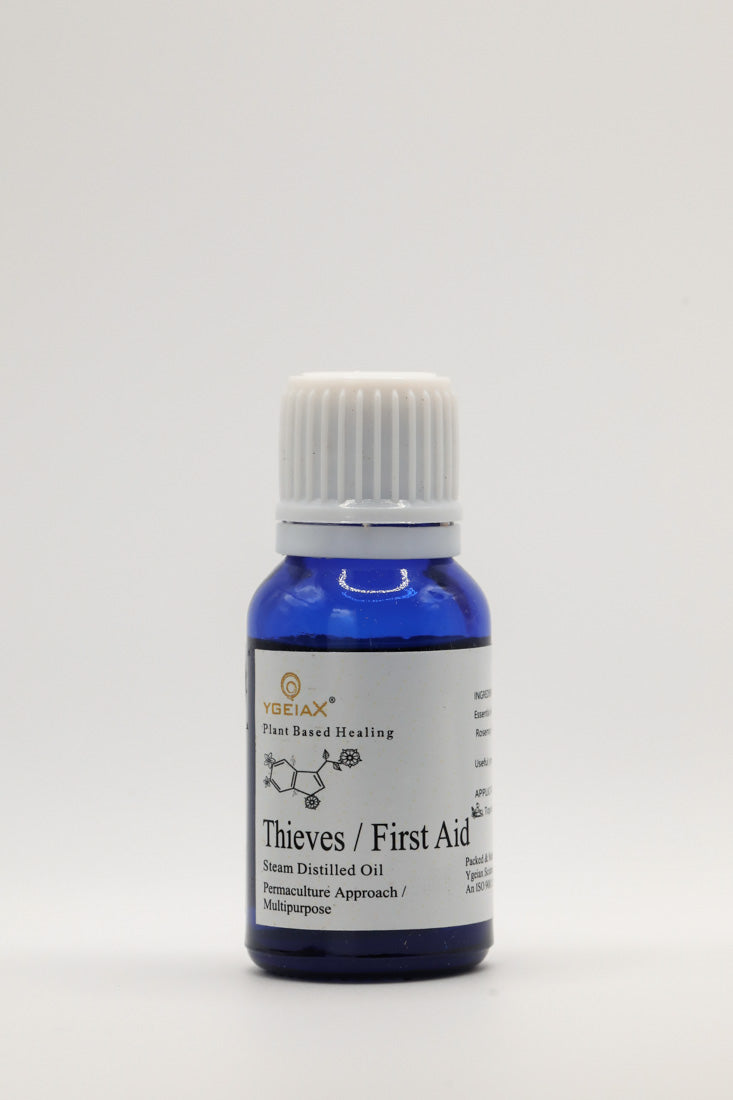 Thieves / First Aid
Sale price

$45.00
Regular price
Choose options